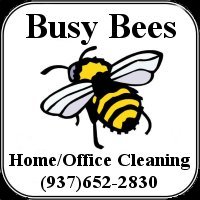 "Tired and grumpy you won´t be when we clean, just wait and see!"
Busy Bees
Home & Office Cleaning Service
630 East Church Street ..Urbana, Ohio .43078
(937)652-2830 .....(937)238-9013
Free Estimates. Insured, Senior Citizen Discounts. We Clean Homes - Offices - Businesses. Spring and Fall Cleaning. Great Gift Idea! Call Susie today!
View Guest Book

Sign Guest Book
Send Us an E-Mail here: busybeescleaning@lycos.com